/master.tpl > content START
Car Tyre Technology
Although tyres just look like round rubber rings they are actually a very complex piece of kit. Tyre manufacturers are continually investing to make their tyres the best.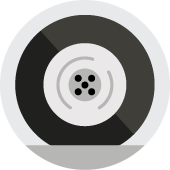 Run Flat Tyres
One of the most recent developments within the tyre industry is the Run Flat tyre. The Run Flat tyre has been developed by many manufacturers to allow the driver to continue travelling on the tyre with a puncture. Although you can't travel for long distances or at any great speed it has reduced the amount of road side recovery sticky situations. Currently you can travel up to 100 miles at a max of 55mph on a run flat tyre.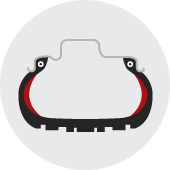 Self-supporting run flats
The most common Run flat tyre on the market is the self supporting run flat. These tyres have an inner fabric within the tyre that adds support to the side wall of the tyre enabling it to be used for upto 100 miles at a max of 55mph. These are mainly used on passenger cars and light trucks. Although a great feature to have on your vehicle in most cases the tyre has to be completely replaced. It is unlikely that the tyre can be repaired if the driver has actually used the tyre for any lengthy period of time after receiving a puncture. You may find the ride on your vehicle a bit stiffer due to the lack of give on the tyre sidewall. Some manufacturers such as BMW have favoured run flat tyres for some time. They use Bridgestone (link to bridgestone manufacturer) run flat tyres and have got rid of the spare tyre that you would find with older models.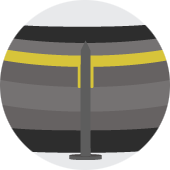 Self-sealing
The technology in a Self-sealing tyre is really quite clever. If you were to unfortunately get a small hole within your tyre the extra lining that is fitted to the tyres would self-seal the hole stopping any tyre pressure from releasing. There are a few sealants that can be injected into you tyre valve to act in the same way but to be honest they are not as good as the real deal and in many cases once used the tyre definitely has to be replaced.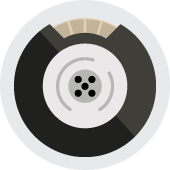 Auxiliary-supported
Auxiliary support is when the wheel has a support ring that will actually support the tyre when there is a drop in pressure. Although this works very well and has a better ride due to the sidewalls not being as stiff as the run flat tyres the combination is really quite expensive and isn't as popular as the other options.
Advantages / Disadvantages
There are many advantages to run flat tyres. You will find that you get a lack of wear on certain areas of your tyre because the tyre is more stable due to the thick sidewalls. This can lead to a decrease in rolling resistance and an improved fuel efficiency. You also don't need to bother with a spare wheel giving you more space within your vehicle. Not carrying a spare wheel around will also reduce the weight you carry which in return will increase your fuel efficiency. All good yeah!? Not quite! Run flat tyres come with a much firmer and heavier ride. Many people find the driving experience of run flats not very enjoyable. You also, more often than not have to replace run flat tyres once you have a puncture. It is rare that these can be repaired.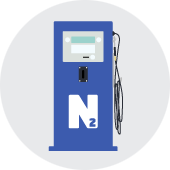 Nitrogen
Most vehicles on the road today have their tyres filled with oxygen from a service station. Probably unknown to many of you out there you can actually fill your tyres with Nitrogen. For many years Nitrogen has been used in the tyres of aircraft and racing cars. The main reasons for this is because the Nitrogen gives the driver added ride quality because the gas is always at a constant pressure which also makes Nitrogen much safer to drive on. Due to the fact that the gas doesn't leak through the tyre means that there is less wear on the tyre tread which results in the tyre lasting longer than if it was filled with oxygen, this comes as a great saving for you.
All in all Nitrogen is generally better for your vehicle, yourself and your wallet. That being said it costs in the region of £10 per tyre to inflate with Nitrogen.
/components/route_to_content_panels.tpl START
/components/route_to_content_panels.tpl END
Our tyre brands:








and more ...
/master.tpl > content END