/master.tpl > content START
How to buy guide
Getting the right tyre for you
There are many advantages to buying tyres online. Not only do you benefit from further savings, but buying through Easywheels gives you the confidence that you have ordered the right tyres for your car at the right price.
We know that buying tyres can be a daunting task -not knowing which size you need, what brand to go for - and not knowing if you even need new tyres at all! This can often lead to stress and confusion, and can leave you paying more than you really should.
This guide highlights how easy it is to buy tyres through Easywheels and if you still have any questions at the end of it then don't hesitate to contact us on 0333 9000 201.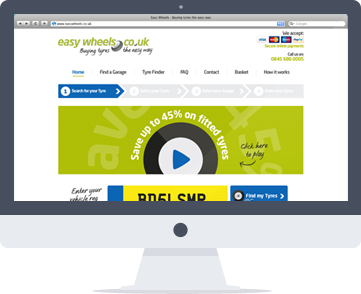 Let's start with the home page
Once on the homepage you will see a registration plate, this is the best place to start. Add the registration number of the vehicle you want to buy tyres for and select the button to the right saying Find my Tyres. This will go through our Car Reg data base (the biggest in the UK!) and show you the recommended tyre sizes for your vehicle.
OR
If you know your tyre size go straight to the Advanced search
If you know the tyre size you are after then the Advanced search is for you. You will find this just under the Find my Tyres button. Select this and you will be directed to the Advanced search page, where you will be able to search for your tyres by size or vehicle manufacturer.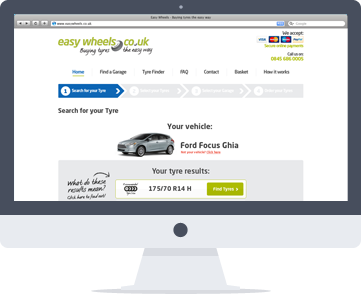 Selecting the correct tyre size for your vehicle
Once you've added your registration number, all of the suggested tyre sizes from your vehicle manufacturer will be displayed. These are only recommendations - so it's important that you check to see which size matches the current tyres on the vehicle. If you don't know how to check look further down the page and there will be a really simple explanation of how to check your tyre size.
Whilst unlikely, you may find that you have upgraded the alloys (wheels) on your vehicle, meaning that the tyre size on your vehicle wont match the manufacturer recommendations that our database displayes. If this is the case don't worry. Take a note of the size of the tyres on your vehicle and input these sizes into the Advanced search on the site.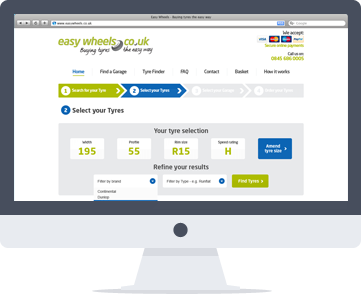 Selecting the tyre you want and how many
When you are happy with the tyre size you have selected, you will be shown the range of tyres available. You will then be able to filter the results by brand and tyre type so if you are after…let's say a Michelin Runflat, you can view this by selecting Michelin from the list of manufacturers and Runflat from the type filter drop down menus.
The tyres will be displayed in price order and you will be able to select how many you want to add to your shopping basket.
There is a lot of information available for each tyre on the Easywheels website. By selecting the Read More button you will be shown a detailed breakdown of the tyres' features and safety points as well as the EU tyre labeling information. This helps to explain how the tyre performs in the wet, how loud the tyre is and its fuel efficiency - which cann be invaluable information for anyone who isn't a tyre expert! Having this information at your fingertips enables you, the buyer, to make a more informed decision when it comes to choosing the right tyres and it may even help to save you money in the long run!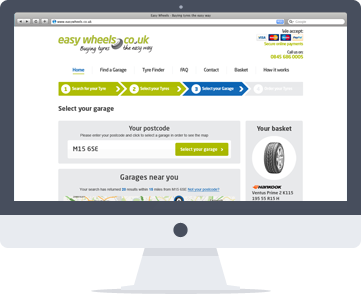 Locating a garage near you
Easywheels has a network of over 2000 fitting partners throughout the UK. We ask you to enter your postcode so that we can easily locate the closest garage to fit your tyres.
All Easywheels fitting partners have been selected because they are the best of the best. We only work with top quality garages throughout the UK so rest assured, these guys know exactly what they are doing.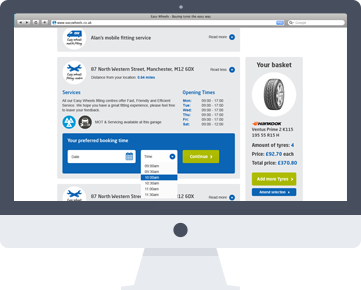 Selecting a fitting appointment that best suits you
When you have decided which garage you want to fit your tyres, select the date and time you would like them fitted. Fitting appointments are divided into 30 minute slots but please note that it can take longer, particularly if you have larger tyres or specialist tyres such as run flats, so please allow around 45 minutes.
Completing the order
Now that you have selected your tyres and booked a fitting appointment at a local garage, all you have to do is complete the payment form in three easy steps. Once the order is complete an order confirmation will be sent to your email address, please print this order confirmation so you can show it to the garage when you arrive. Alternately if you would prefer, you can simply show the garage the order confirmation on your phone when you arrive.
It's as simple as that.
If you have any further questions check out our huge faqs section, which answers a range of common and uncommon tyre questions. Alternatively if you want to chat give us a call on 0333 9000 201 and we'll be more than happy to help you get the right tyres for your vehicle.
/components/route_to_content_panels.tpl START
/components/route_to_content_panels.tpl END
Our tyre brands:








and more ...
/master.tpl > content END